First victory for Pidcock wearing the rainbow jersey
British rider Tom Pidcock has just taken his first cyclo-cross victory of the season at the X2O Trofee in Kortrijk. This is his first victory wearing the rainbow jersey. But Pidcock won't have much time to celebrate because tomorrow he will be at the World Cup in Hulst, where he will compete against Van der Poel.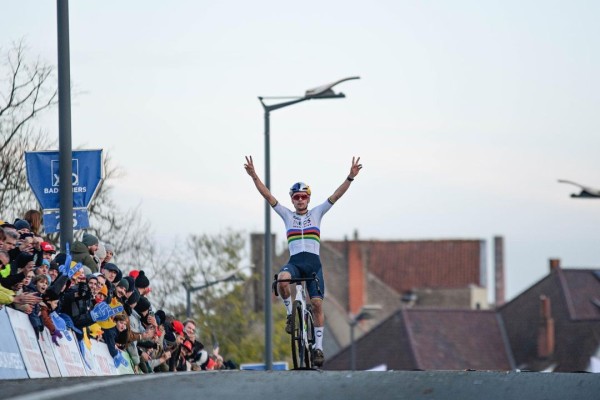 Tom Pidcock wins his first CX race wearing the rainbow jersey
INEOS Grenadiers rider Tom Pidcock took victory in Cortrique, Belgium, with a solo attack that neither Van der Haar nor Iserbyt could respond to. Lars van der Haar and Eli Iserbyt took the rest of the podium in the sprint, finishing second and third respectively.
"It was a hard and fast race. I managed to open a gap early on, but it was difficult to increase it. So I tried to stay focused and keep my rhythm."
"I didn't feel very good this week, but today was different. I enjoy every day that I can race in this jersey. All the fans support me and I'm also trying to learn some Dutch."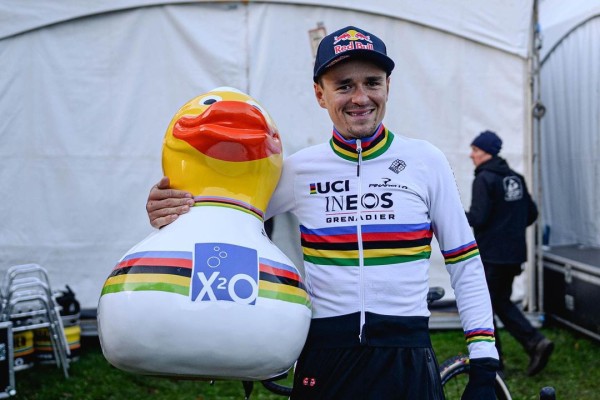 But as soon as Pidcock crossed the finish line as the winner, he was already looking ahead to tomorrow's World Cup in Hulst, where he will face Mathieu van der Poel for the first time.
"Tomorrow we have another race and I think we can expect a good Mathieu van der Poel there," said Tom Pidcock.
The British rider's statements about Van der Poel seem to be in line with those made by his coach a few days ago with the intention of transferring the pressure to the Dutchman and the Belgian Van Aert, but the truth is that all eyes will be on the rainbow jersey.