Canyon reinvents the way to ride a MTB with the amazing K.I.S. technology
Canyon has just introduced the new Spectral CF 8 K.I.S., a very attractive trail model that has been overshadowed by the innovative technology it incorporates. The K.I.S. stabilizer. 
Imagine turning the handlebars of your mountain bike and when you release them, they return to their centred position to keep the steering straight. That's the functionality that Canyon has just introduced.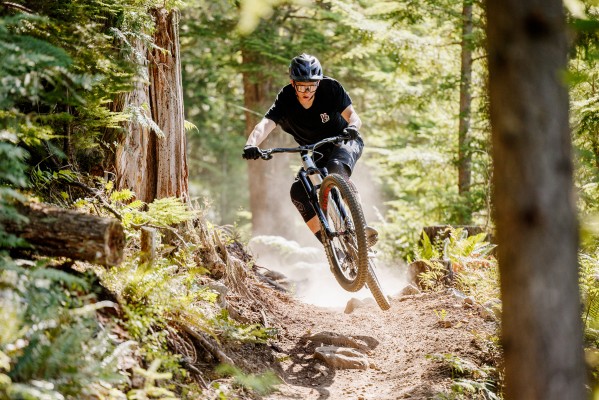 What is K.I.S. steering-assist technology?
This system has been invented by Jo Klieber from the bike brand Syntace and has been installed for the first time on the Canyon Spectral CF 8. The K.I.S. technology seems as simple as it is ingenious, something that is rarely seen in today's innovations and could be a major paradigm shift in the future.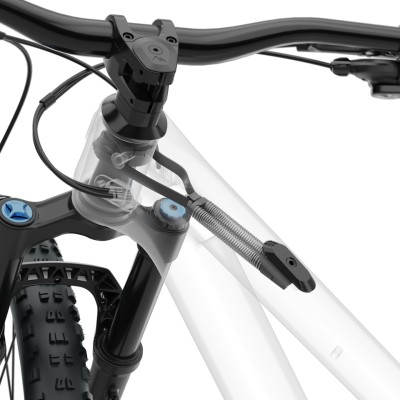 The mechanism consists of a system of custom springs, ultra-strong polymer fibre risers and a high-precision steering ring that are integrated inside the top tube and actively centre the handlebars when riding the MTB. 

Although it is not the first system of its kind for mountain bikes, the brand claims that the K.I.S does not increase the turning friction and generates a force, adjustable in intensity, to return the handlebars to their "straight" position in any situation.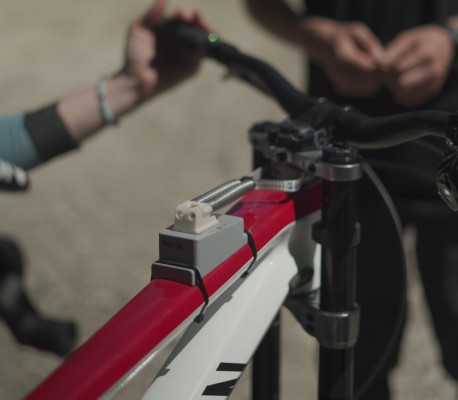 Is it possible to regulate it?
The K.I.S. has an adjustment plate on the top tube which allows it to be adjusted with a simple screw.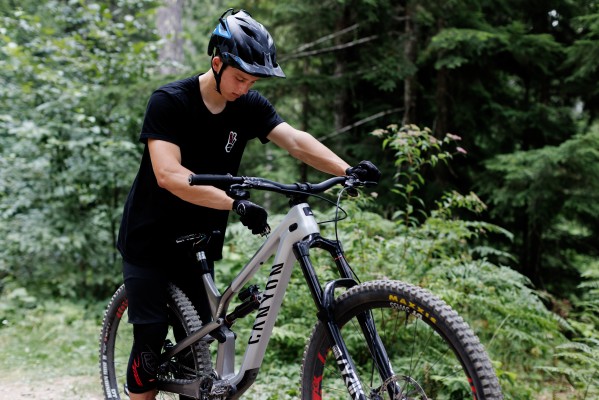 The system can be adjusted according to the rider's weight, terrain or riding style. So heavier riders or riders who want firm steering on fast downhills may want to opt for a heavy setting of the system. Or if you're tackling slow, twisty singletrack, a softer setting will be more appropriate.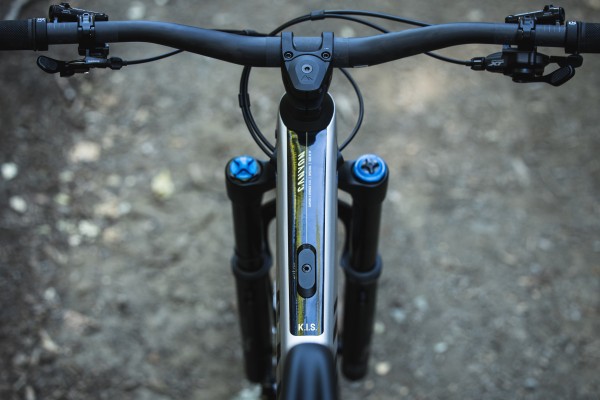 What is it really for?
Canyon states that this system improves stability at all speeds, offers a more predictable ride and reduces rider fatigue.
Canyon's comparison with the sensations of a sports car is a good one for the time being. A more "robust" steering system improves handling and safety at high speed. Roots or bad receptions in a jump cause unintentional changes of direction which are minimised with this system. In addition, they claim it improves braking, reducing vibrations, and the relationship between the front and rear of the bike.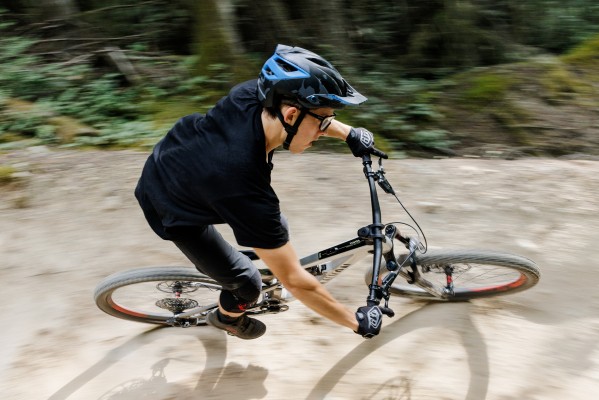 Canyon even goes so far as to suggest that these systems could change the geometry of bicycles once again, as their added stability would make it unnecessary to include such relaxed steering angles, as has been the trend in recent years.
When climbing, K.I.S. technology also offers benefits. It avoids unintentional swinging by reducing the energy needed to keep moving forward.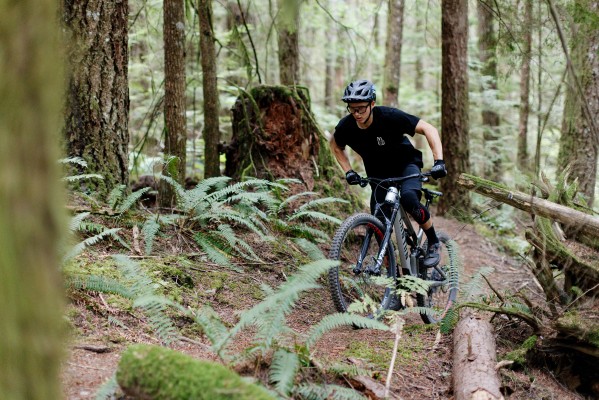 Has it got maintenance? Can it break?
Regarding durability and resistance, Canyon explains that the components of the K.I.S. should last a lifetime, as the forces it withstands are minimal compared to its maximum load capacity.
No matter how hard the impact or how much force it receives, it will not overload and damage the system. The most that can happen is that the adjustment will be disconfigured and you will have to adjust it again.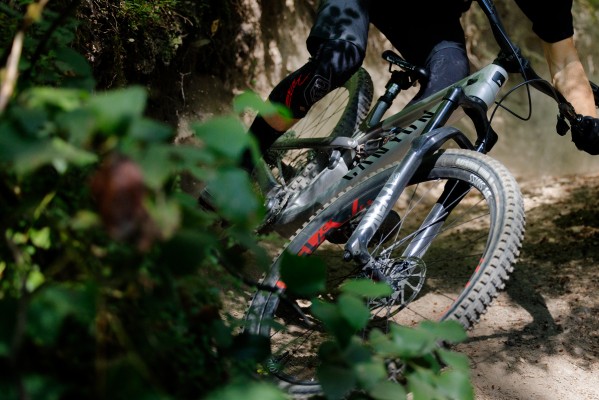 In addition, it is the system itself that includes the pivot stops so that the handlebars do not hit the frame.
The K.I.S. unit only increases the weight of the assembly by 110g, does not need to be lubricated and is corrosion resistant.
Aesthetically we only know about it by the adjustment plate installed on the top tube.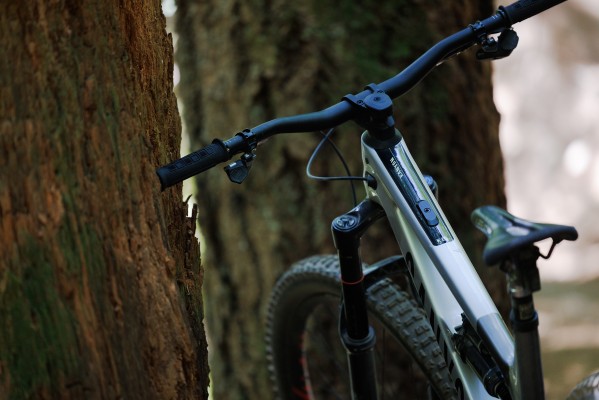 Is this system necessary?
We have to confess that K.I.S. technology has taken us by surprise. Few would have expected such a system on a standard MTB, but if history has taught us anything, it's that we can't be too quick to judge such developments. 
It is a very invasive technology in our riding style and that means that we will have to learn to ride with it, but 29" wheels or disc brakes were also changes of this type and their first detractors are far behind us.
Only time and experience will tell if we really needed a steering stabilisation system on our mountain bike. But there is no doubt that it is this type of technology, rather than electronics, that could lead to great advances in the evolution of MTB.
Canyon Spectral CF 8 K.I.S: price and set-up
This innovative system will only be available for two brands, Canyon and Liteville (Syntace's component brand) and the first model to integrate this system is the new Canyon, the Spectral CF 8 K.I.S.
The Spectral is Canyon's benchmark trail MTB and its 2023 range has been revamped with new colours and specifications, although only one model will include the K.I.S. system.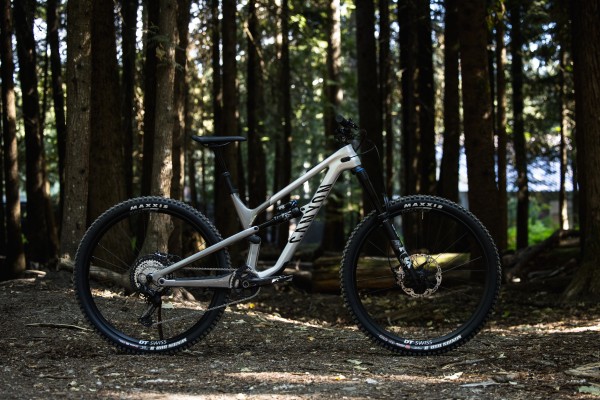 The Canyon Spectral CF 8 K.I.S. is priced at €4,999 and comes with Fox Performance Elite suspension, Shimano Deore XT drivetrain and brakes and DT Swiss XM1700 wheels with Maxxis tyres.
Spectral CF 8 K.I.S. Set-Up
Frame: Canyon Spectral 29 CF M120 feat K.I.S. 1.0
Fork: Fox 36 PE Grip2 160 mm
Shock: Fox DPX2 PE
Brakes: Shimano XT M8120
Wheels: DT Swiss XM1700 with 30mm internal width
Tyres: Maxxis Minion DHR II MaxTerra EXO Front | EXO+ Rear
Groupset: Shimano XT M8120 32t with 10/51t cassette
Handlebar: Canyon G5
Saddle: Ergon SM10 Enduro Comp
Dropper Seatpost: Canyon G5 Adjustable Dropper
Colours: Reflective Grey/Yellow
Sizes: S, M, L, XL
Weight:14.55 kg
The rest of the Spectral 2023 range is made up of 7 models starting at € 2,499 and going up to € 6,499 for the CFR version, the lightest. They are available now and you can check out all the setups at canyon.com.