This eBike converted into a mobile workshop is the most spectacular thing we've seen at the Snowshoe World Cup
Take a good look at it because it's exactly what it looks like, a modified and customised e-MTB that has been converted into a full race-assistance workshop vehicle. American Brad Copeland, Kate Courtney's mechanic on the SCOTT SRAM team, has turned a SCOTT AXIS eRIDE into the most spectacular and useful mobile workshop we've ever seen at a World Cup.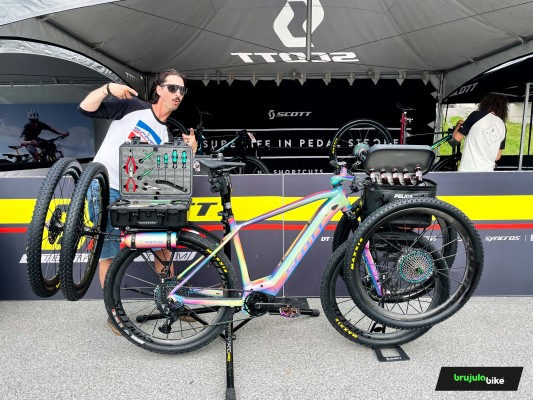 The SCOTT AXIS eRIDE that Brad Copeland has converted into a race assist vehicle
We're at the Snowshoe World Cup and among the lightest and best-ridden mountain bikes on the planet there was one that caught the eye from far and wide. It wasn't a pro rider's bike, but it was in the SCOTT SRAM team paddock.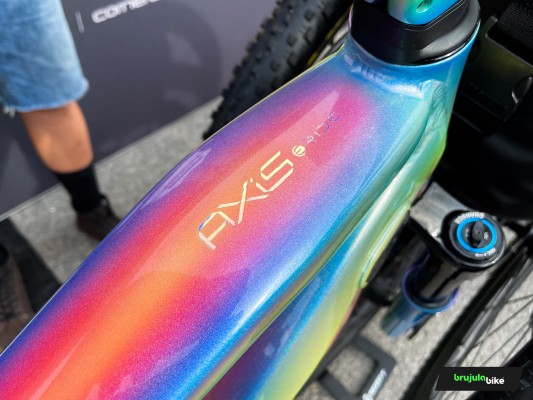 This real piece of art took Brad Copeland two years to build and is the e-Bike with which he will provide mechanical assistance to Kate Courtney in the race.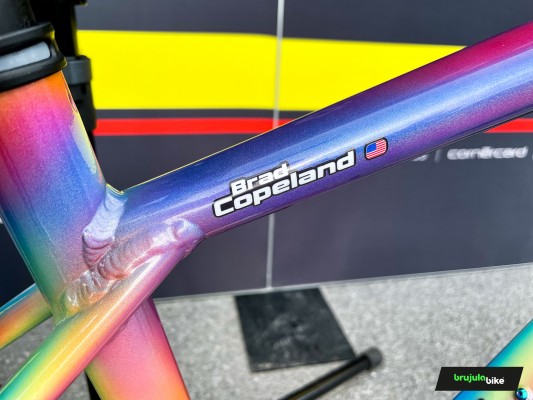 A real stroke of genius, Copeland has modified a SCOTT AXIS eRIDE from the catalogue to carry 4 spare wheels for Courtney's bike, a complete mechanical case, refillable compressed air bottles and a cooler to keep a few beers or isotonic drinks cold.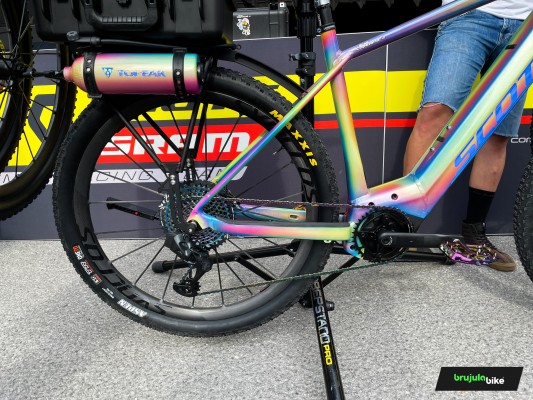 Copeland himself told us a little bit about the set-up of his unique AXIS e-Ride:
"Sure the racks are old man mountain slightly modified by Jason Quaid owner of abbey bike tools." "The brake from frame to rear rack is actually a Abbey Tools Harbor Wheel Dishing Gauge cut in half and powder coated." "All the fab work for the wheel mounts was done in house by abbey tools (you can see their familiar green knobs normally for their trying stand through axle adapter have been used to mount the wheels)."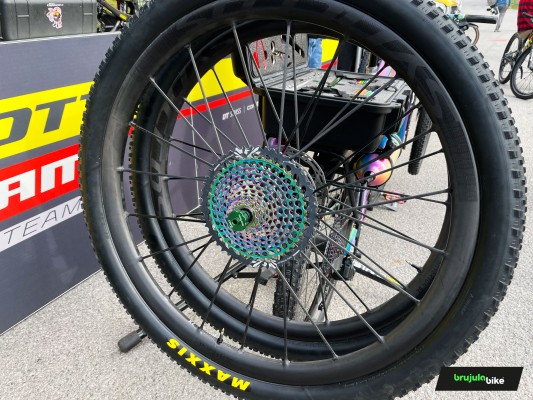 "The air tanks are Topeak Modula Java cages that were modified to hold the Topeak tubibooster air cans." "One of which holds a mini air compressor running to the other tank which actually holds the air. It charges up to 125psi so enough to Mount three tires easily."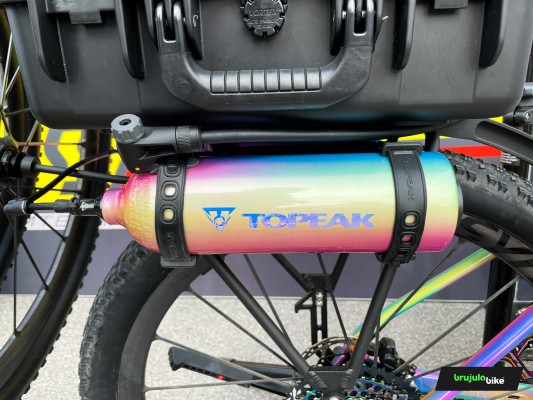 "Custom paint on everything by Tony Baumann (@maderadbytony in Instagram)."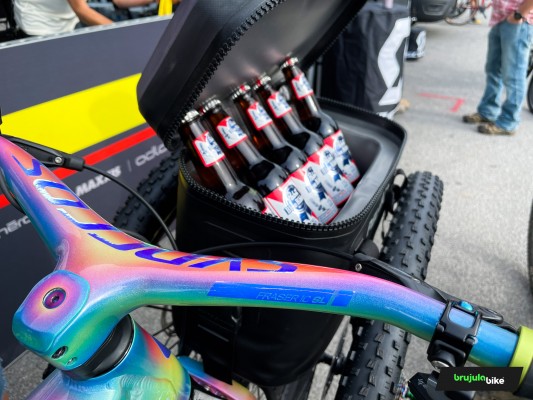 "The tool box is an abbey team issue toolbox that we custom mounted to the rear rack." "Front bottle cooler is from pelican professional."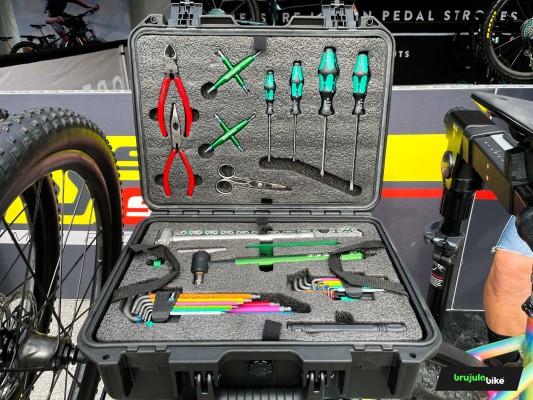 If you want to see in detail everything that Copeland carries in his toolbox and how he built it, we recommend you to read this article where he told us about it.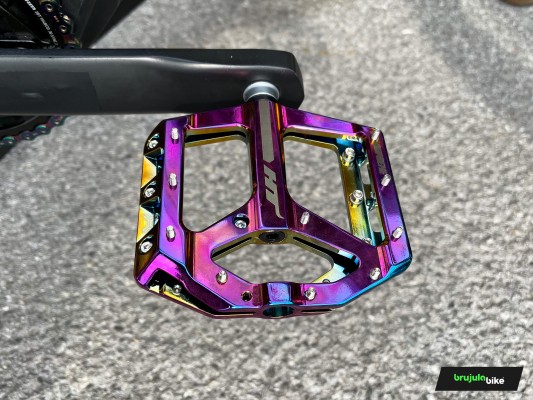 Assembly of the SCOTT AXIS eRIDE workshop by Brad Copeland
Frame: SCOTT AXIS eRIDE
Motor: Bosch Performance Line CX
Fork: RockShox Pike 140mm
Groupset: SRAM Eagle AXS Rainbow
Chain: SRAM XX1 Rainbow
Brakes: SRAM G2 RSC
Dropper Seatpost: RockShox Reverb AXS
Saddle: Syncross Tofino
Wheels: Syncross Silverton 30mm
Tyres: Maxxis Aspen 2.40 50PSI
Handlebar: Syncross Fraser SL
Grips: Syncross Confort Lock-ON Grips
Pedals: HT Supreme