Bad example from Sarrou, Colombo and Schurter
South Africa continues to host a large number of XCO and XCM cyclists who are preparing for the first races of the year. But far from the sport, Jordan Sarrou, Filippo Colombo and Nino Schurter have been the protagonists of an unfortunate video that reminds us of the dangers of a behavior that is illegal in most countries and as dangerous as it is evident.
Jordan Sarrou, Filippo Colombo and Nino Schurter ride within inches of a truck in open traffic
Frenchman Jordan Sarrou and Swiss riders Nino Schurter and Filippo Colombo have been training together for more than 5 hours around Stellenbosch, South Africa. And inexplicably, Sarrou has shared a video on his social networks where the three of them can be seen stuck to the back of a truck to take advantage of its slipstream during the ascent of a road port. In addition, Colombo can be seen as Colombo lets go of his hands and loses his attention from the vehicle while Sarrou records the video.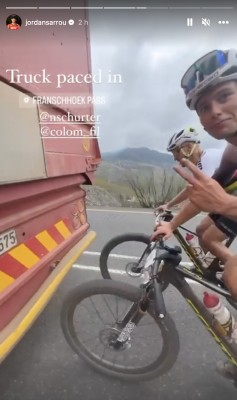 This may be a matter of three professionals on a road with little traffic and not too much speed because it is uphill, but it is certainly one of the most dangerous actions when riding a bike and illegal in most countries.
It seems obvious how many dangers are involved in this kind of driving. The margin for maneuvering is practically zero and an unexpected braking, a fall of the load or simply the vehicle going over a pothole or hole in the road is enough to ensure an accident.
As cyclists, we must be the first to respect the safety distance that we all long for when riding on the road.