Kate Courtney won the Albstadt World Cup 2019
From what we could see during the Short Track on Friday, everything seemed to presage that the Albstadt World Cup was going to be a one-on-one between Jolanda Neff and Kate Courtney, but the American has proven to be very superior. Kate Courtney has won the Albstadt World Cup with a mountain bike recital.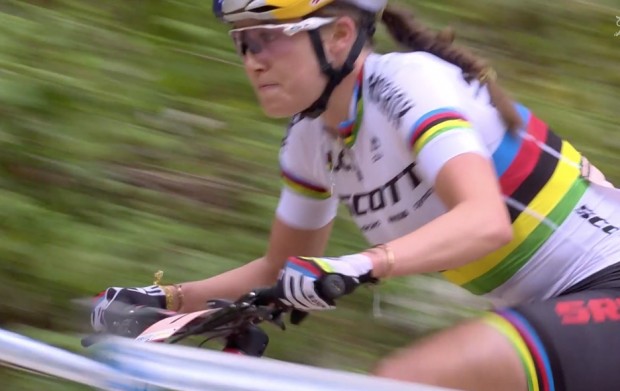 Kate Courtney wins without giving any options to the rest
After a quick start in which the group was not broken, the first climb was led by Jolanda Neff and Kate Courtney in parallel, it seemed then that the race was going to be very close.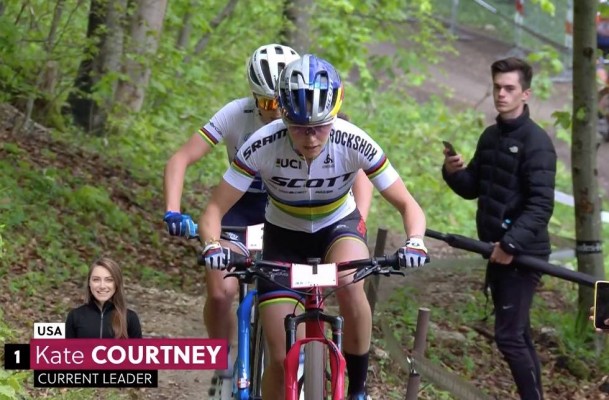 But when we were only 8 minutes into the race and before finishing the first lap, Courtney found it easy to open a gap with Jolanda, up to 10 seconds, imposing a very high pace on climbs. Jolanda Neff had to resign to risk on the descent and ask for a relay to Anne Tauber as she passed by the start-finish straight.
Courtney concentrated on leading solo and before starting the second round had already got 20 seconds to the second, Anne Tauber, and 34 seconds to Jolanda Neff, in third position. Jolanda Neff did not look comfortable in any area of the circuit, she suffered in climbs and did not trace the descents well.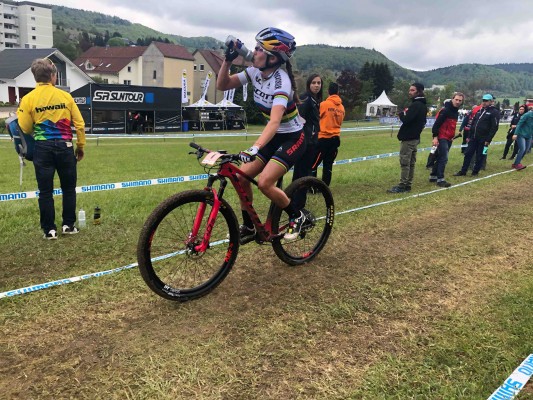 From mid race, Courtney's superiority was incontestable and it was clear that her plan was coming off to perfection, she was very comfortable in the climbs and not even a hard fall on one of the wooden platforms was enough to reduce her advantage. It was then when we realized that to save weight she did not carry a water bottle in her Scott Scale (not even bottle cage), she only drank at the refreshment point.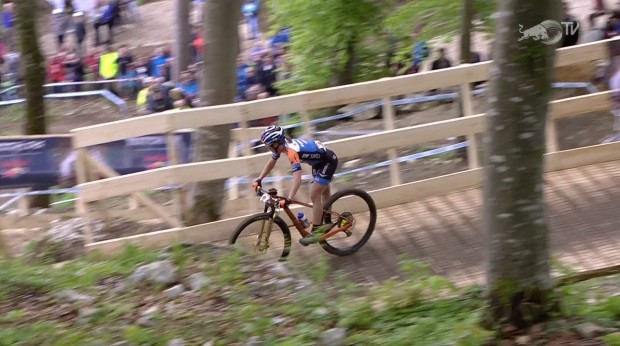 With two laps to go, the Dutch Anne Tauber was very solid fighting to try to reduce the 20/30 seconds that separated her from Kate Courtney. Meanwhile, Jolanda Neff was separated 1'25 minutes from the head of the race and local star Elisabeth Brandau, in fourth place, was 1'40 minutes from Courtney.
During lap 4, Anne Tauber suffered a fall, at the same point that Kate Courtney did a few laps earlier. Jolanda Neff recovered the second position and she tried to reduce to the maximum the distance with Courtney. Yana Belomoina also benefited from Tauber's problems and placed third in the last round.
Kate Courtney came first in goal getting brilliantly the victory of the Albstadt World Cup 2019. Jolanda Neff second and Yana Belomoina third. This result is the first victory of Kate Courtney in the World Cup.
Rocío del Alba (BH Temple CAFES UCC) managed to finish in position 13 in what is her first World Cup race in the elite category. A very delayed position in the exit conditioned the day but she knew how to manage energy well, from less to more, and achieve very close to the Top 10.
Results Women Elite World Cup Albstadt 2019  
Kate Courtney (SCOTT SRAM) 1:26:03
Jolanda Neff (TREK Factory Racing) +0:49
Yana Belomoina (CST Sand Bafang) +1:31
Anne Tauber (CST Sand Bafang) +1:49
Anne Terpstra (Ghost Factory Racing) + 2:20