The Absa Cape Epic 2023 unveils its route: 658 km with 15,775 m of vertical drop
As has become tradition, in 2023 one of the first major competitive events of the year will be the Absa Cape Epic. It is the world's largest MTB stage race and has just unveiled its route for the next edition.
The Absa Cape Epic 2023 will be held from 19 to 26 March 2023 and will have a total distance of 658 kilometres with 15,775 metres of elevation gain spread over its 8 stages. As usual in its organisation, new trails will be used for the first time and it will once again pass through some of the legendary areas of the race.
The Absa Cape Epic 2023 stage route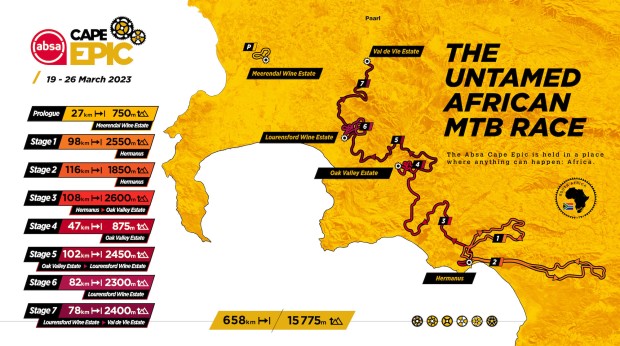 Prologue stage - Sunday 19 March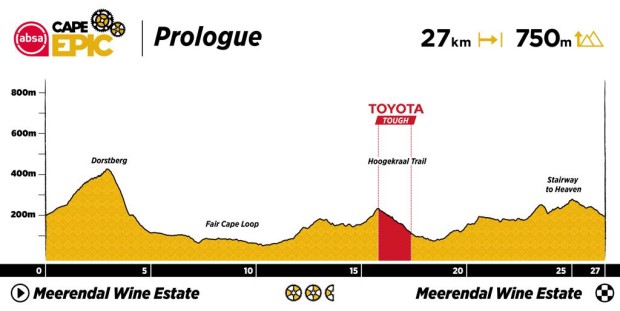 Sunday, 19 March 2023
Distance 27 km |Metres of climbing 750 m
Start and Finish: Meerendal Wine Estate
The race starts with the classic time trial of the Prologue, a 27 km stage on very fast trails with a tough uphill finish on the so-called "Stairway to Heaven".
Stage 1 - Monday 20 March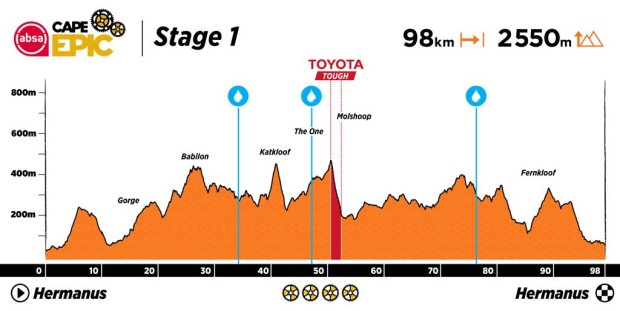 Monday, 20 March 2023
Distance 98 km | Metres of climbing 2550 m
Start and Finish: Hermanus
The coastal town of Hermanus will host the start and finish of stages 1 and 2, two days of heat, endless trails and wind.
Stage 2 - Tuesday 21 March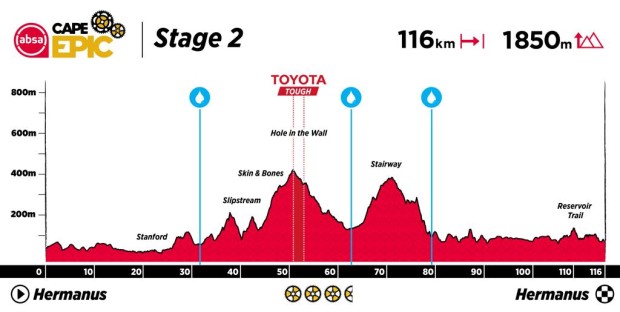 Tuesday, 21 March 2023
Distance 116 km | Metres of climbing 1850 m
Start and Finish: Hermanus
Stage 3 - Wednesday 22 March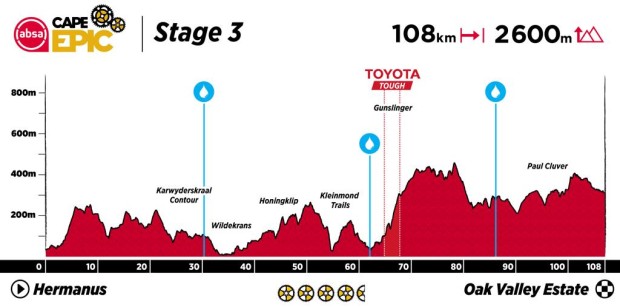 Wednesday, 22 March 2023
Distance 108 km | Metres of climbing 2600 m
Start at Hermanus and Finish at Oak Valley Estate
Stage 3 leaves the coast to head inland in perhaps the toughest stage of the edition. A day that teams who want to make a difference will have to mark in their diaries.
Stage 4 - Thursday 23 March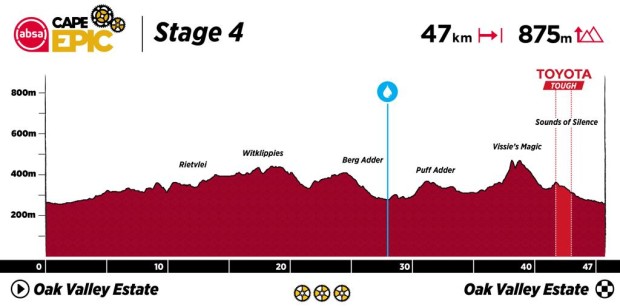 Thursday, 23 March 2023
Distance 47 km | Metres of climbing 875 m
Start and Finish: Oak Valley Estate
The Absa Cape Epic has included a mid-race time trial for 2023. A kind of respite, more mental than physical, in which the cyclists will have a time trial of almost 50 km and 900 metres of elevation gain. For the favourites, it will be an agonising and tough day.
Stage 5 - Friday 24 march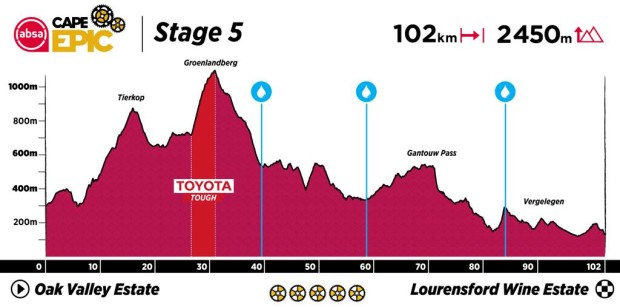 Friday, 24 March 2023
Distance 102 km | Metres of climbing 2450 m
Start at Oak Valley Estate and Finish at Lourensford Wine Estate
Considered the queen stage of the 2023 edition, the fifth day includes the longest climbs this year and has perhaps the toughest portage section of the race. For those at the front, it will be a key day in the classification.
Stage 6 - Saturday 25 March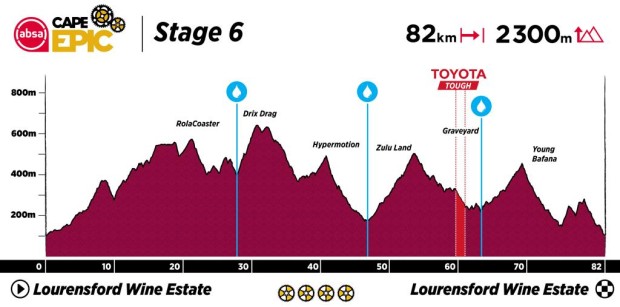 Saturday, 25 March 2023
Distance 82 km | Metres of climbing 2300 m
Start in Hermanus and Finish at Lourensford Wine Estate
The penultimate stage will take place entirely on one of South Africa's largest private estates, Lourensford Wine Estate, for the first time on the Absa Cape Epic. A stage full of the characteristic dusty trails that make this race so special.
Stage 7 - Sunday 26 March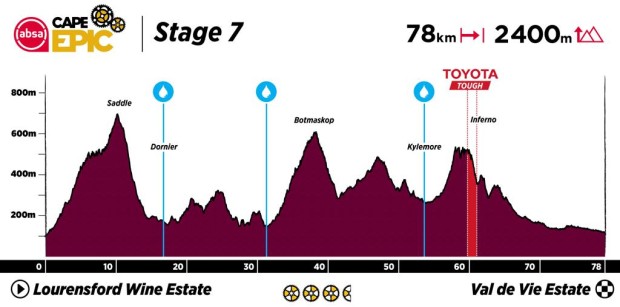 Sunday, 26 March 2023
Distance 78 km | Metres of climbing 2400 m
Start at Lourensford Wine Estate and Finish at Val de Vie Estate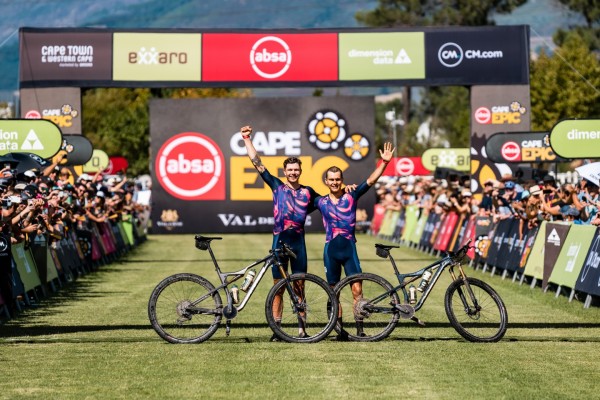 The last day will not be a walk in the park for anyone and once again we find a stage of 78 km and 2400 m of elevation gain capable of deciding who will be the winners in the last kilometres, as it happened in 2022.