Koretzky wins the XCC Les Gets after another strong performance by Schwarzbauer
Koretzky takes the win in the intense XCC of Les Gets. The Frenchman tried the attack a lap before launching the one that ended up giving him the victory, although Sarrou kept the pulse until the final sprint. Schwarzbauer was always on the offensive and led almost the entire race, although in the end he entered the podium with a maneuver that put Litscher on the ground.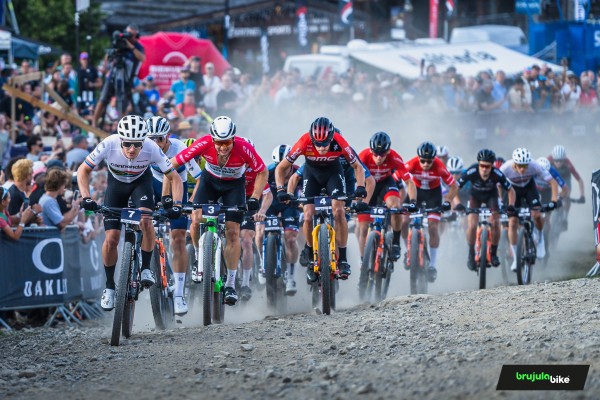 Koretzky is crowned at the XCC of Les Gets
The men's race, as was also the case in the women's race with Ferrand-Prevot, started with Nino Schurter out due to illness. Schwarzbauer went out in the purest Schwarzbauer style and quickly took the lead. David Campos also had a splendid start, taking second place in the first meters, together with his teammate De Frointmond.
Schwarzbauer was the leader of a large group of almost forty riders who had taken the start. The German lost the lead, although it didn't take him long to regain it and take back the responsibility of leading the way. Campos kept up the pace while Sarrou, Litscher, Koretzky and Fluckiger were just behind.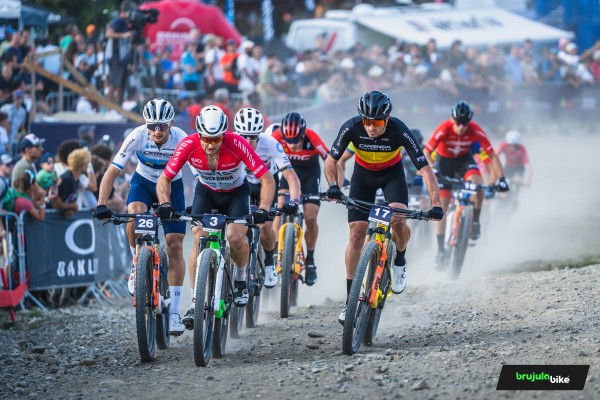 Fourth lap. Koretzky uncovered his cards and raised the pace. Schwarzbauer stuck to the Frenchman's wheel and they exchanged positions until the German decided to stay on the throne to cross the finish line. First half of the race completed.
Schwarzbauer raised the pace, shifted up a gear and forced the rest of the field to do the same. Lap six. Campos was trying to recover positions after a few laps in which he had lost a lot of places. Schuermans tried to change the line when passing through the technical zone, which allowed him to return to the group in fifth position.
The riders passed the finish line at a time when they were increasingly stretched out. Koretzky's attack attempt was countered by Schwarzbauer. The German remained in first place until he crossed the finish line.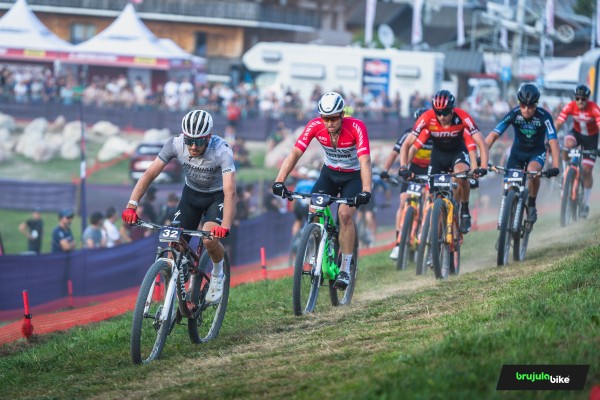 Last lap. Koretzky's brutal attack produced more watts than anyone else to open up a gap. Sarrou and Litscher were in his wake, while Schwarzbauer was reluctant to give up.
Koretzky was also the best in the last meters and reached the finish line in first position to take the victory at home.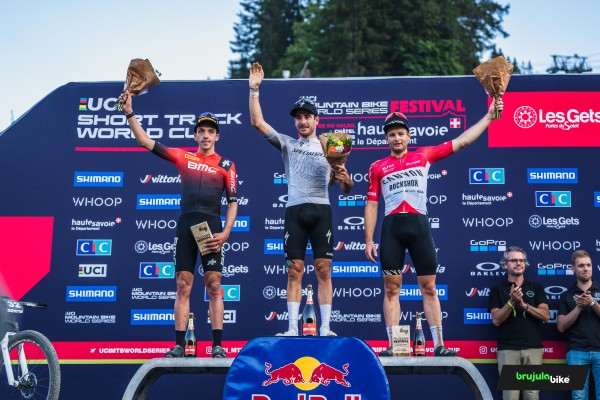 Results XCC Les Gets 2023 World Cup - Men's
Victor Koretzky 20'33"
Jordan Sarrou +0"
Luca Schwarzbauer +2"
Jens Schuermans +4"
Martin Blums +5"
Joshua Dubau +6"
Thomas Litscher +6"
Christopher Blevins +11"
Lars Forster +12"
Vital Albin +12"