Pinarello unveils the new DOGMA XC: "It's a bike that's still in development"
Pinarello has just officially unveiled its new Dogma XC, a full suspension mountain bike with 100 or 120mm of travel that is expected to hit the market in 2024. The surprising thing is just that, Pinarello has presented this mountain bike still unfinished development, it is a prototype that could still evolve to its final version. In any case here is all the information about this new Pinarello.
Pinarello Dogma XC 2024: all the history and details of an exclusive MTB still in development!
We have rarely seen what Pinarello has just done with its new Dogma XC, it is the first full suspension mountain bike that comes to its catalog after a long time, but the truth is that it still has some time before it is available to the general public, because the truth is that we are still facing a prototype under development.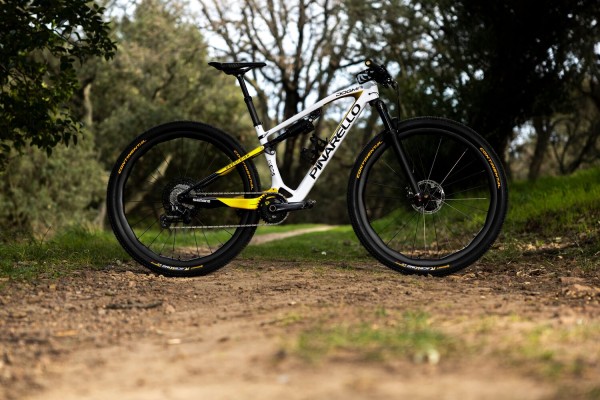 INEOS Grenadiers riders Pauline Ferrand-Prévot and Tom Pidcock have been racing with the prototype of this new Pinarello Dogma XC for a few weeks now, and it will be the same one they will be racing with at the Nové M?sto UCI XCO World Cup this weekend. What is certain is that from now on their Pinarello Dogma XC will have a personalized aesthetic for each one.
The Pinarello Dogma XC began development in 2022 and a hardtail version will be available soon
As we already knew, the Italian manufacturer decided to return to the most competitive MTB since the INEOS Grenadier team started its XCO career with Tom Pidcock and then with the signing of Ferrand-Prévot.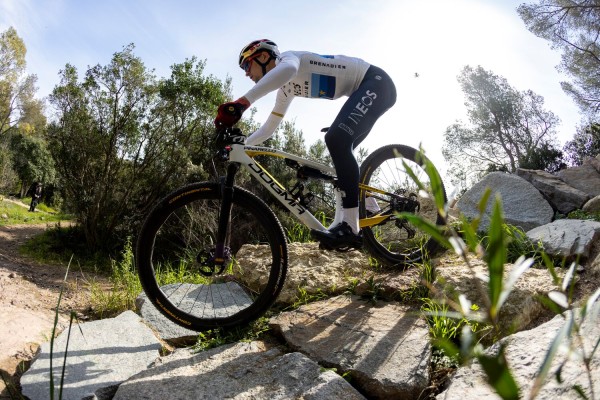 So Pinarello began developing this bike in the fall of 2022 and underwent an intense period of testing with Ferrand-Prévot, Pidcock and the INEOS Grenadiers technical team. And from the brand they confirm that their goal is to perform at the highest level, first in the World Cup and World Championship events and then at the Paris 2024 Olympics.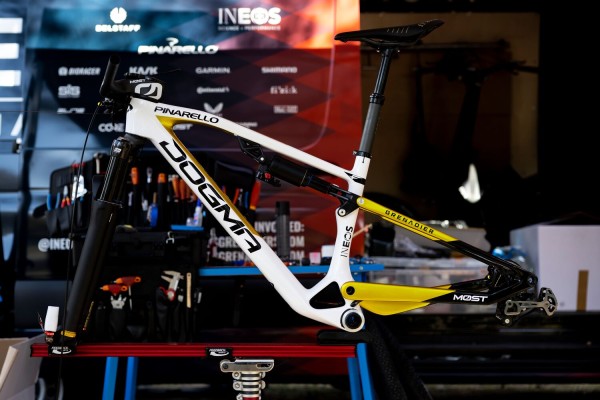 Something they seem to have already achieved if we take into account that the new Pinarello Dogma XC has already been on the top of the podium a couple of times, first with Ferrand-Prévot in a French Cup race and then with Pidcock in the Swiss Cup in Chur.
The brand has set March 2024 as the date by which the new Dogma XC will be commercially available, and has announced that in parallel they are developing a front suspension frame for those races in which it is the best option. Ferrand-Prévot's opinion has surely had something to do with this, since he won the last World Cup with a hardtail MTB.
Pidcock's requirements for the new Pinarello Dogma XC
For the development of this new model, Pinarello hired an in-house team specializing in R&D and MTB kinematics that began by analyzing Pidcock's feedback and data from his previous two years of MTB testing and racing.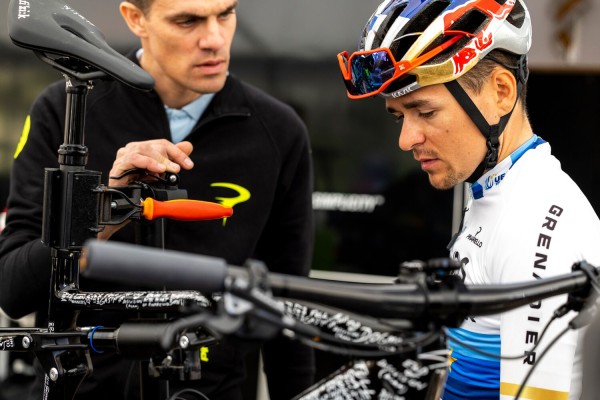 This analysis led to a series of requirements for the new Dogma XC:
Extreme stiffness in the rear triangle and bottom bracket to offer maximum reactivity 
Simple yet progressive kinematics to optimize travel and rebound
The ability to match suspension travel to the unique demands of each circuit
Lightness paired with exceptional drive and handling capabilities to excel on technical descents
Key elements of the Pinarello Dogma XC 2024
The answer to all of these requirements is an innovative frame design for the Dogma XC that is full of clever details and solutions.
Unique bottom bracket area
Since we first saw it, this Dogma XC 2024 stands out for the unique design of the bottom bracket area, which features a "third triangle" to optimize stiffness and accommodate an oversized bearing for the rear triangle pivot point. This design shape will undoubtedly be the key to its reactivity.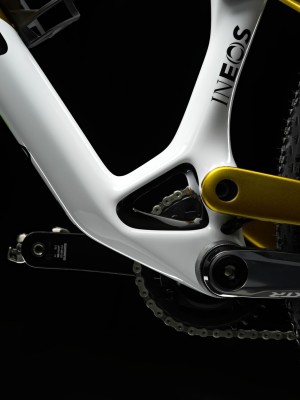 Flex stays
A classic in current XC mountain bike designs is to opt for a monopivot system for the rear suspension, the lightest dual suspension system, and provide some flexibility to the stays and chainstays of the rear triangle to accompany the absorption of irregularities without losing stiffness or sacrificing weight. Just what Pinarello replicates in this Dogma XC.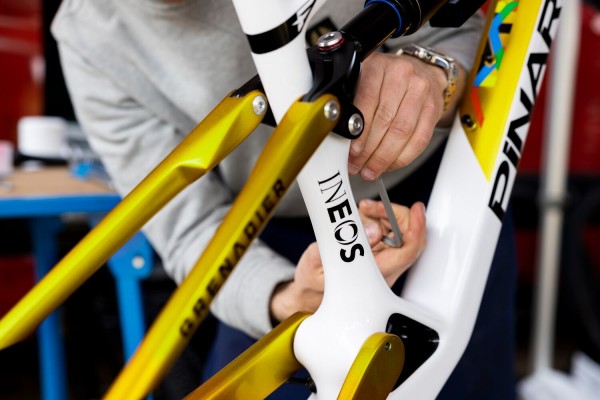 Split rear triangle
The rear triangle is not composed of a swingarm linked by a bridge but consists of two half triangles, one on each side, without a fixed joint, which attach to the shock absorber and pivot point pin independently. With this design Pinarello has obtained the following benefits:
The elimination of a classic external 'bridge' which allows for a reduced chain stay length and delivers improved handling and reactivity
The elimination of critical mud accumulation areas
The ability to adopt wider tires, providing riders with a greater range of options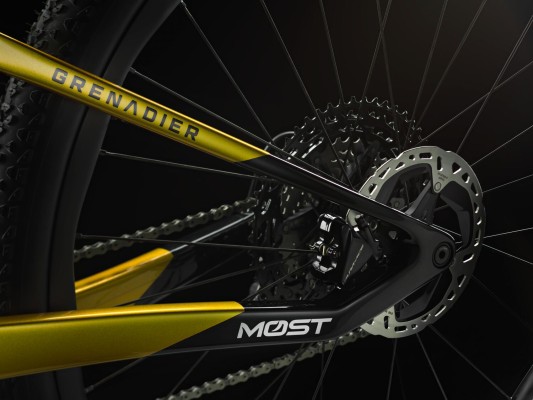 In addition, the rear triangle is asymmetrical and the left side has been reinforced to counteract the higher force exerted on the right side of the drivetrain.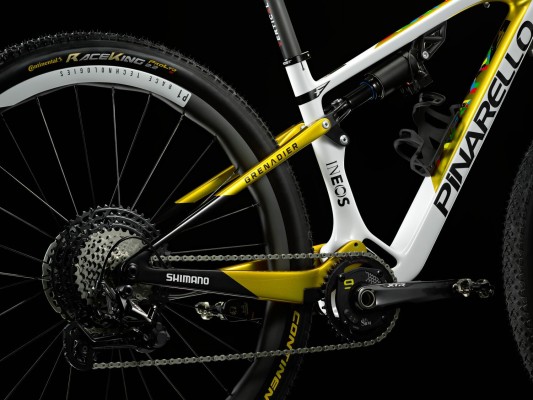 Kinematics
The rear suspension kinematics take the integration of flex stays into account to maximize energy transfer while pedalling, deliver optimal compression/rebound on technical descents, and enable maximal rider control.
Friction at each pivot point has also been minimized by utilizing a mixed bearings/bushing system. Bushings have been incorporated at point 'a' as they are durable enough to absorb the high impact and low rotational forces placed upon them, whereas bearings have been integrated at point 'b' where the opposite forces apply (low impact/high rotation). This results in reduced energy dispersion, increased reactivity of the rear end, and increased durability of the system.
Anti-rise and anti-squat values have also been studied to create a bike which excels on both the steepest climbs and most technical descents.
Adjustable travel
The ability to move the suspension connection point under the top tube allows different rear shock absorbers to be fitted, with different travel, allowing the riders to match their bike to the unique demands of each ride.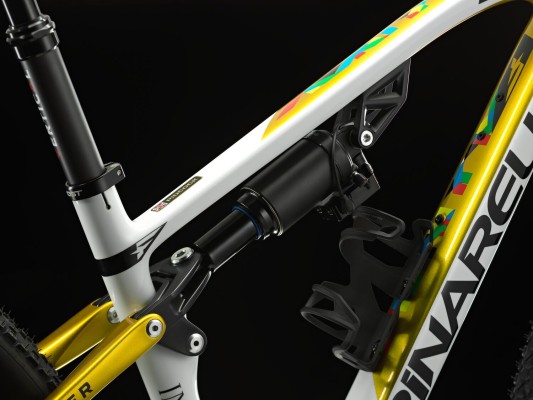 Cockpit
The integrated handlebar has also been designed by Pinarello under its Most components brand. It is a handlebar with integrated stem, internal cable routing and a 60° stop to prevent the handlebars from hitting the frame.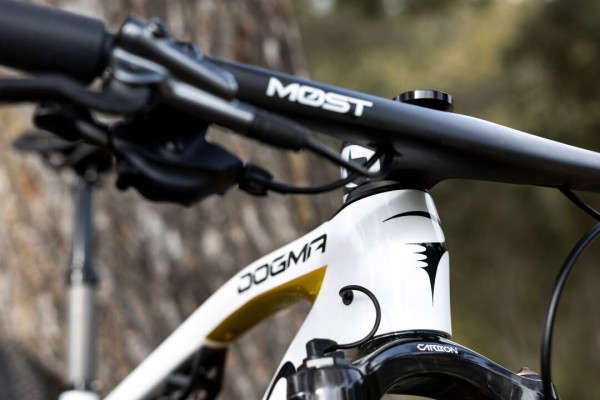 Technical specifications
Carbon fibre front and rear triangle, Ergal aluminium hardware 
Asymmetric frame
Split rear triangle design
Seatpost diameter: 30.9mm
Seatpost compatible with seatpost dropper & internal cable routing
Geometry developed for double travel setup:
- Front: 100mm – Rear 90mm (with 190x45mm rear shock)
- Front: 120mm – Rear 100mm (with 210 x 50mm rear shock)
Standard mount rear shock with 90° inverted fixing points
Transmission 1x12 compatible, chainrings 32 T or 40 T
Chain line: 55mm 
Maximum crankset arm length: 175mm 
Compatible with Stages power meters
TiCr internal cable routing
TiCr integrated headset with 60° internal stopper
Boost Standard, 12mm diameter conical thru axle, compatible with UDH
Standard flat mount 160mm, compatible with 180mm (adapter needed) 
Maximum tyre clearance: 29 x 2.35 inches
Two bottle attachments
Opinions on the new Pinarello Dogma XC
During the presentation of the Dogma XC and just before the Nove Mesto World Cup, this is what some of the protagonists in the development of this new model had to say.
Pauline Ferrand-Prévot said: "I can't wait to get out there and race the Dogma XC at Nové M?sto. To be working with Pinarello on developing the bike is super cool. It was exciting to receive and test the bike, my first impression is they've developed a remarkably fast bike. It has a good mix of lightness, responsiveness and rigidity, and allows you to really put the power down. Pinarello's engineers are constantly asking us for feedback and it's fun being part of the bike's progression. I'm looking forward to going on a journey with this bike and it'll be great to finally get the chance to ride it at the highest level of competition."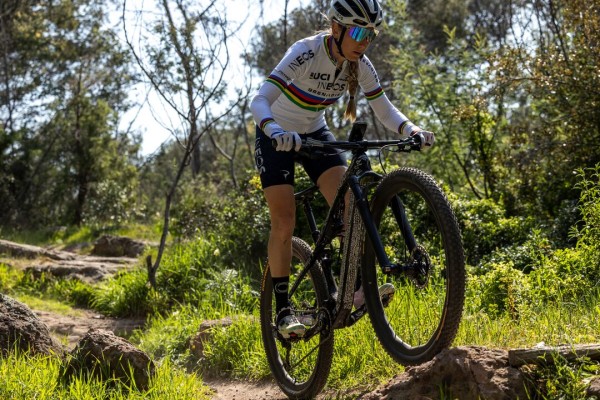 Tom Pidock said: "I'm really looking forward to trying this new Pinarello Dogma XC out at Nové M?sto. I got my first look at it back in March and my initial impressions were positive. It handles brilliantly, is super-responsive, and ultimately is fast. It's a bike that's still in development, and it's going to be fun working with Pinarello to make it even better. I've never really been involved in the development process of a bike before, feeding my thoughts and suggestions back in, but it's something I'm definitely enjoying and Pinarello's engineers are committed to producing bikes that help us win races."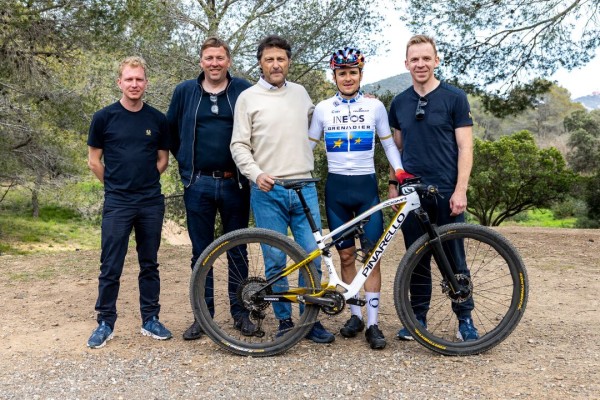 Fausto Pinarello said: "Seeing Tom and Pauline competing on the Dogma XC is going to be a landmark moment for everyone at Pinarello. We've worked tirelessly over the last months to build a bike that meets the demands of two of the very best cyclists on the planet, and we can't wait to see how they ride it at Nové M?sto."
Carsten Jeppesen, Head of Technical Partners and Cycling Relations at INEOS Grenadiers said: "Our team has been developing high-performance bikes with Pinarello for over 13 years now. We understand how to get the best out of each other, and we're delighted to be working with them again on this exciting venture. Our tireless approach to research and development has already started to bear fruit as I believe we've got a bike we can be proud of heading into Nové M?sto. The fact that Tom and Pauline are so involved in the development process has meant from the first testing they were already impressed with the bike's handling. This is key, as ultimately, the goal is gold at the Paris Olympics, so this bike is being developed to perform at the highest level for them both."