Interview with Kate Courtney: "Consistency is key"
In 2018 Kate Courtney was World Champion and in 2019 she has won the overall World Cup ranking. For 2020 her big goal will be the Tokyo Olympics and she has told us how she plans the season and what she thought of the Tokyo circuit, among other things.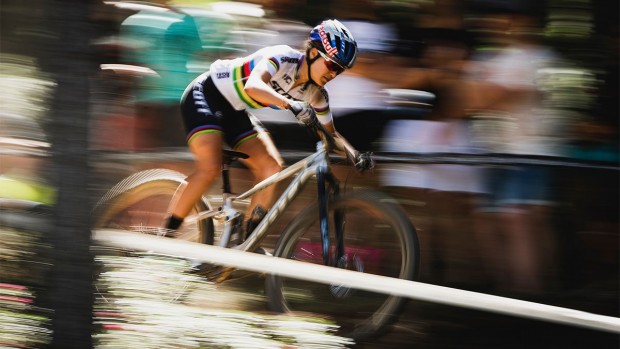 Interview with Kate Courtney before her 2020 season
Last year you went on holiday after winning the overall World Cup classification, something that requires a lot of constancy throughout the year. How was your rest period? Did you manage to forget about the bike for a while?

My last key race last season was World Cup finals in Snowshoe, West Virginia where I secured my overall World Cup victory. This was definitely a very positive way to end the season and represented my hard work and the hard work of my entire team throughout the 2020 season. I returned home for a few weeks before my final races of the season at the Olympic test event and epic rides series in Bentonville after which I took a few week break from the bike. The time off in the fall is really important to allow my body and mind to reset and recover before we begin training for another season.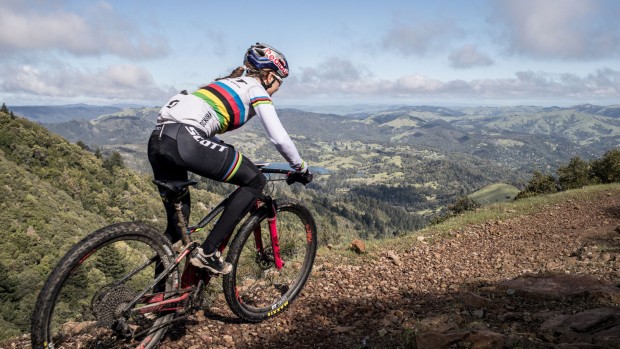 This year is the Tokyo Olympics, tell us a little bit how you plan the season, what are your main goals? Have you changed your preparation from last year?

Every year we have a number of both process and outcome goals that shape my training and racing calendar. The 2020 season is centered around the Olympic Games in Tokyo but we will also be prioritizing a few other key events before and after the games. Of course in an Olympic year I am more focused than ever on executing my training to the best of my ability and incorporating a few key tweaks that I believe will prepare me specifically for the course and conditions in Tokyo. Aside from those small improvements, however, much of my preparation and training protocols remain the same as previous years. Consistency is key.  
During the training sessions of the Tokyo test you had a fall that prevented you from doing the race, did you have time to test the whole circuit? whatimpressions did you have?
The Tokyo course is an incredibly beautiful and challenging XCO track that I believe will produce a very deserving winner this summer. I really enjoyed the track and am looking forward to competing on it this summer. 
In your daily life, what do you use more to train, the road bike or the mountain bike? Tell us a little bit about what a "normal" training week for Kate Courtney is like.
I ride a combination of road, cross and mountain bike in my preparation for the season. Typically in the winter, especially when it's raining in California, I spend more time on the road and cross bike. As the season approaches, however, I transition to mainly riding my mountain bike and focusing on more specific high intensity intervals and technical training. 
In 2020 we have started the year with the injuries of Jolanda Neff and Pauline Ferrand-Prevot, but we still know that the women's season will be spectacular. Who do you think will be your most direct rivals this season?
The women's field is very competitive at the moment and I believe will produce a very exciting season of racing. I expect to see Jolanda Neff, Pauline Ferrand-Prevot, Annika Langvad, Jenny Rissveds, Anne Tauber and Anne Terpstra among others fighting for podium positions and making the World Cup season an exciting one.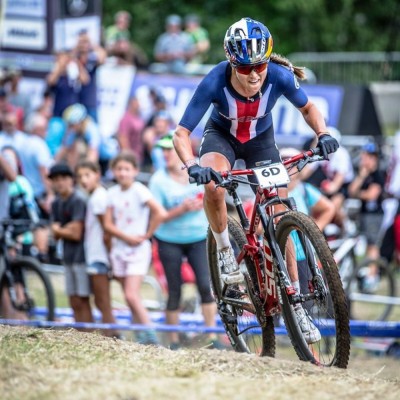 In recent seasons, women's World Cup races have been much more exciting, from a spectator's point of view, than men's races. Have you noticed this from the inside? What is your opinion on this?
I agree! The women's racing is very exciting  and Compeitive. There are so many riders that could win on a given day and I think that's part of what makes the races so compelling for spectators and athletes alike. 
Finally we would like to talk about bikes, what is your favourite model of Scott and why? What do you think is the most important advance your racing bike has undergone in recent years?
My favorite model is the SCOTT Spark Contessa RC. Having the ability to ride this bike setup and become familiar with the TwinLoc lockout system last year made a huge difference in my technical riding and confidence on World Cup courses. In recent years, there have been many improvements to the Spark set up  - resulting in a bike that feels light and stiff on climbs but smooth and responsive on descents. Additionally, last season SRAM released the AXS system which represents a huge leap forward in the functionality of my shifting and dropper post. I can't wait to get back out and race this set up for the 2020 season!
Thank you Kate for making us have such an exciting time in the races and for giving us your time, we wish you all the best.