New SRAM derailleur without a derailleur hanger hunted in Les Gets
The riders are already doing their first training rides on the Les Gets Championship circuit and there we have just seen the prototype of what looks like a new SRAM derailleur without a derailleur hanger, among other innovations.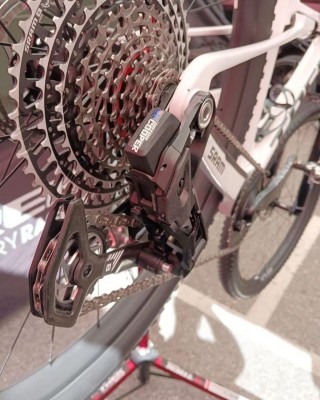 New SRAM rear derailleur spotted in Les Gets
The images belong to the Trek Supercaliber of Anton Cooper,but there are already several riders who have already mounted it on their bikes and we will see them throughout the week.. So this new SRAM rear derailleur could be in an advanced stage of development or directly be a final version.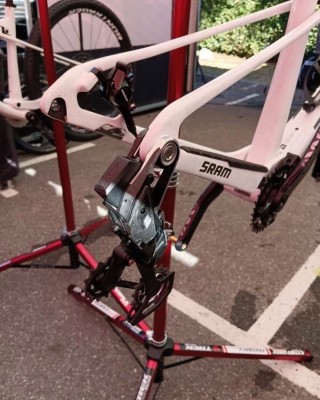 The information we have is only what we can extract from the images.  It would be a new derailleur that changes the rules completely by anchoring itself to the frame directly "hugging" it and without using any derailleur hanger.
The battery makes it clear that this is an electronic AXS rear derailleur and the structure of the derailleur seems to act as a pin, with the advantages it may have and the obvious risk that if it breaks, the entire derailleur or a detachable part would have to be replaced.
We would say that the pulley cage is larger than the current one, and in the picture we can see what looks like a new, flat chain at the top of the links.
This move would be a further twist on the quest that SRAM began a few years ago to make its UDH dropout the industry standard. In doing so, it has succeeded in getting most bike brands to custom build their frames with this UDH hanger, and now SRAM could have taken advantage of this situation to directly release a rear derailleur that dispenses with any hanger at all.
Weight savings should not be an argument in this innovation, as the UDH hanger weighs 26 g, and as we say, at first glance the risk of breakage of the derailleur is multiplied with the absence of this. This is something that SRAM has surely taken into account if we remember that the UDH hanger has a price of €15 and the AXS XX1 derailleur exceeds €500.
So we are anxious to see what benefits this new derailleur brings as it should far exceed the more obvious risks.