This exclusive Colnago C68 is covered with gold leaf and costs 22,000 €
Colnago was inspired by the Senza Fine trophy that recognizes the winner of the Giro d'Italia to create the Colnago Giogiello, Italian for "jewel". A bike that seeks to pay homage to the exquisite bike manufacturing of the transalpine country, creations that are living history of cycling and of which Colnago is one of its greatest representatives.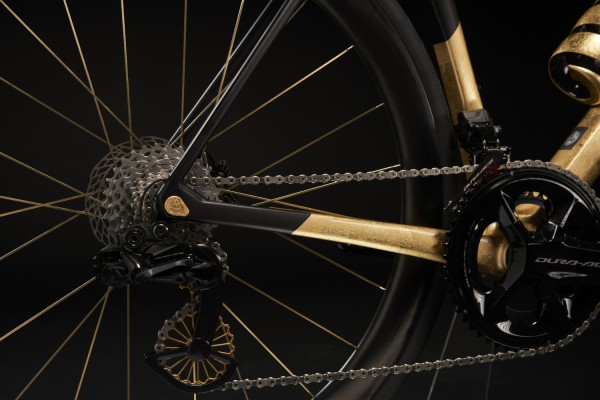 Colnago's latest jewel pays homage to the Giro d'Italia
With just a few days to go before the start of the great Italian round, the Cambiago firm surprises us with a spectacular creation for which it has spared no means and which is on a par with other legendary Colnago creations.
On the basis of a C68, Colnago has made this Giogiello completely decorated using gold leaf along its tubes, in particular the finish of the fork legs where the upper part of gold leaf is combined with the lower part with exposed carbon on which the logo of the ace of clubs of the brand is reproduced in a subtle golden texture.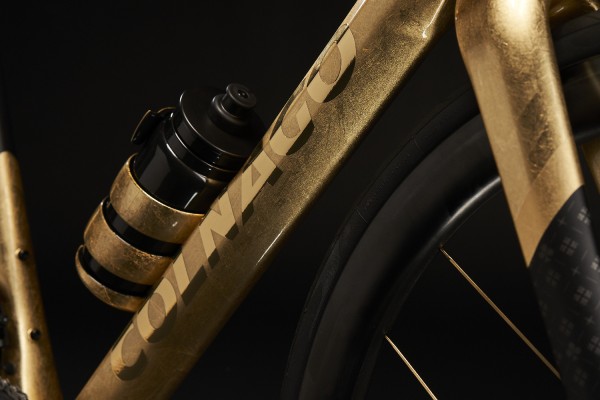 However, the most eye-catching element at first glance is the bottle cage created by 3D printing with a spiral structure reminiscent of the Senza Fine trophy from the Giro d'Italia and which, like the rest of the frame, is coated with gold leaf.
To dress this bike Colnago has turned to some of the most exquisite manufacturers that provide components such as the Ceramic Speed OSPW titanium 3D printed gear pulley case, or the elitist Carbon-Ti brake discs made of carbon and steel.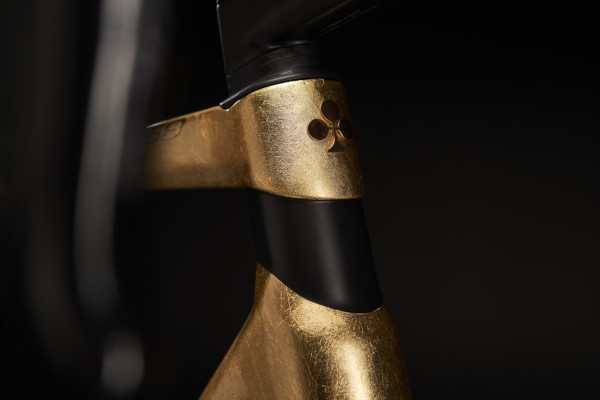 Colnago has built just 50 numbered units of this C68 Giogiello and announces that number 1, which will accompany the Senza Fine trophy throughout the Giro, will be even more special and will be released on May 8. The remaining 49 units will be available for sale at a price of 22,000 €.
Colnago C68 Giogiello: Technical specifications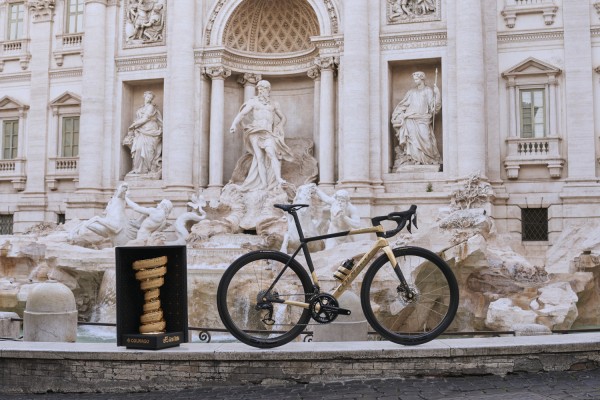 Frame: C68 Full Carbon
Handlebar/Stem: integrated Colnago CC.0
Groupset: Shimano Dura-Ace Di2. Derailleur with Ceramic Speed OSPW pulley box 3D printed in titanium. Carbon-Ti X-Rotor carbon and steel brake discs.
Saddle: Selle Italia SLR flow carbon Colnago for Giro d'Italia
Wheels: ENVE SES 3.4 Gold Version
Tyres: Pirelli P Zero Race TLR Gold x Colnago for Giro d'Italia
Handlebar tape: Colnago for Giro
Bottle cage: Colnago for Giro