New BH GravelX, performance and comfort in equal parts
Total renovation of the GravelX, BH's commitment to this discipline. A bike that more than complied but without standing out and that, from now on, will surely be a model to be taken into account, especially by those who opt for a sporty approach to gravel but do not renounce to face long mileage if the script requires it.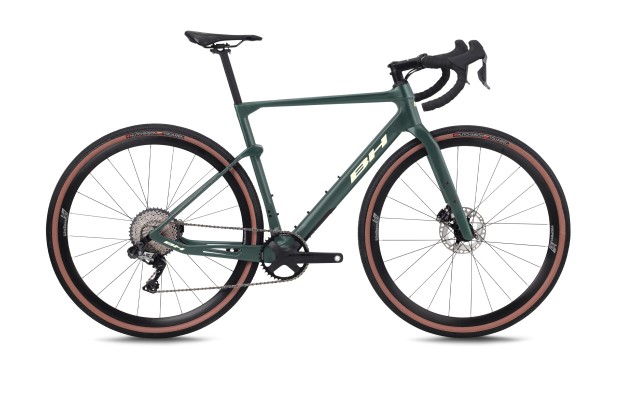 Road feel and mountain bike comfort go hand in hand in the BH GravelX
It seems that competition gravel bikes are the order of the day among the latest launches of the different brands, proof that gravel events are becoming increasingly important and having a fast bike becomes essential for those who want to compete for the best places.
The new BH GravelX makes its intentions clear at first glance, with its aerodynamic look, the low positioned seat stays or the wide space on the top tube combined with a low head tube. Now, if we look at the details, we will see that there are few concessions to the adventurous and bikepacking side. It's a clean frame, with no threads for a luggage rack or other accessories.
However, gravel is still a discipline that takes place on roads, in many cases with stones and broken terrain, where it is not only important that the bike is efficient but also that it isolates the rider as much as possible from the terrain, among other things, so as not to crush his body and allow him to perform adequately. No matter how much of a competition bike it is, we have to keep in mind that, in general, gravel events are contested over distances that often exceed 300 kilometers. Spending so many hours on the bike is only possible on a comfortable machine.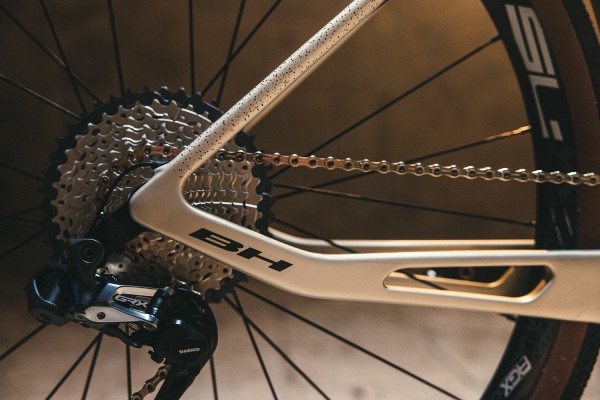 To achieve the desired absorption, BH has developed for the GravelX the SRS anti-vibration system based on chainstays with a peculiar shape that leaves a gap in the middle to allow controlled bending of the same. Something similar happens with its thin seat stays and with everything around the junction point between seat stays and seat tube that acts as if it were the pivot point of a hypothetical suspension system. According to the brand it is able to offer a displacement, depending on the rider's weight, between 3 and 5 mm.
This absorption capacity of the frame is complemented by the Air Bow Gravel fork, similar in design to that of its latest road models but, obviously, with a specific laminate and dimensions to maximize flex capacity off the road.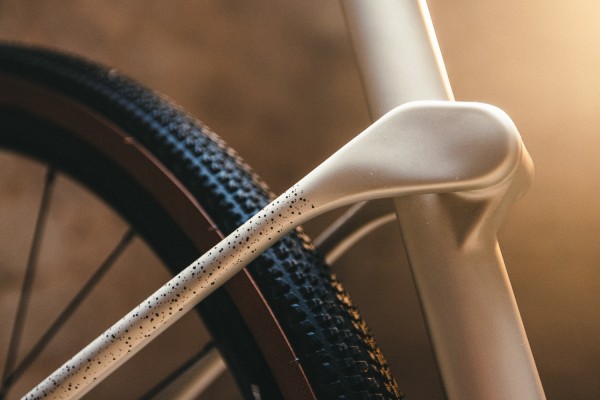 This elaborate design fortunately does not take its toll on the construction of the frame, which thanks to the HCIM process, which uses high modulus fibers and Ballistic carbon, a type of carbon that seeks greater resistance to impacts, achieves a frame of a competitive 1,050 g. A frame that is designed to accommodate up to 45 mm tyres, another sign of the sporty approach of this bike.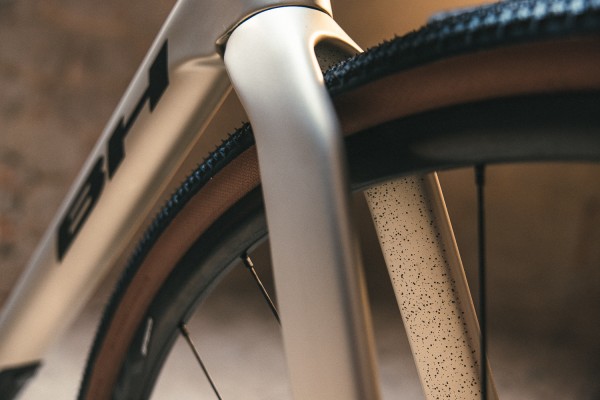 Also following the current trend, integration has been advanced. Of course, the cable routing is completely internal as is the norm in virtually all new releases. At the beginning we said that this bike does not come with threads to add accessories, however, in gravel tests we always have to carry a minimum kit that allows us to solve any problems that may arise. To carry what you need, BH has created a compartment in the down tube of this GravelX.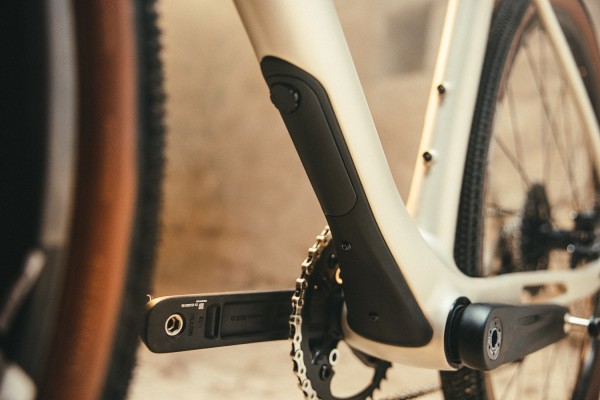 We can find this new GravelX in 4 different setups, with 5 standard color options in addition to the possibility of customizing it through the BH Unique program, with prices starting from 3,299 €.