Interview with Jenny Rissveds, a world champion that has just started
Regarding Mountain Bike, Jenny Rissveds has been a real revelation in the last years. Rissveds has won the World Championships under 23 in 2016 and the gold medal at the Olympics in Rio. All this achievements would be more than a dream for other bikers, however she has just started.
We talked to her before she won the Absa Cape Epic.
[caption id="attachment_12093" align="aligncenter" width="594"]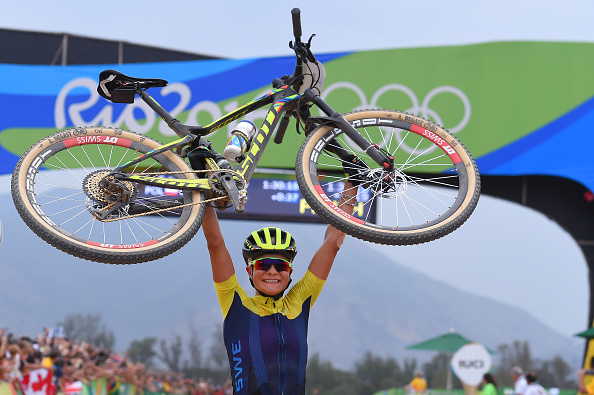 © Tim De Waele[/caption]
Interview with Jenny Rissveds
How is the preparation of a cyclist for the mode in which you compete?
It depends of the time of the year. In the wintertime when I'm at home I do a lot of XC skiing and running besides riding a bike. During the season the proportion of road cycling and MTB get's bigger.
Did you find it difficult to get to professional cycling by lack of resources and / or support?
Coming from Sweden it was indeed not easy to make my way trough to the international race szene. Luckely I could count on my fathers support who traveled with me to the races when I was younger. Wihout him I would not been able to make it. Our federation was too small to suport me enough.
How is the daily life of Jenny?
Training and recovering. Now since the Olympic's I have a lot of obligations besides training. A lot of media requests and apperances for sponsors and so on. But so far I like it in my new role.
What has it meant for you to get the title of World Championships U23? Was it one of the objectives of the year?
Yes, it kind of felt like a break trough. I dreamed about the world champion title for quite some time. Even I was one of the best riders in my category I never won the title before. But the true main objectiv was getting the qualification for the Olympics. And this was way more difficult tan winning worlds.
This year you have been declared winner in World Championships XCO and Olympic Games XCO. Could one say that you are in the best sports moment of your career?
Well, winning Olympics , a world champion title and a world cup race in one season is hard to top. But I believe I can still improove for the years to come. Winning an elite world champion title or the elite world cup overall is something I'm aiming for.
Your workouts are focused for the explosivity or you do workouts for a long time too?
XC races get shorter and faster. To be explosiv is an important part of success. But to be able to train hard it also takes a good base training. So I realy do train both sides of it.
What do you usually do workouts the week before the competition?
There is no standart procedure. It always depends on the time of the year and what races I'm preparing for.
You know what it feels when you win both so, what do you prefer a gold medal at the Olympic Games or gold medal at the world championship?
No question- Olympics! To even make it to Olympics is an athlets dream. Winning it is hard to describe in words. Olympics is only every 4 years while to win the world championship you get the chance every year.
When did you start to ride on the bike, did you think you could become to be world champion? 
I started racing quite Young at the age of 7. At this age you don't make any plans for the future. You live in the moment and enjoy what you are doing.
What career or career moment remember as the worst? And the best?
The best is easy to choose. It's Rio. I had a few worst moments. Even this year. When I injured my hand at the Albstadt world cup for excample or when I crashed in training 3 days before the Olympic race and had to get stiches on my elbow and knee. But the worst overall was probably at the Are world championship where I aimed for a medall and tan crashed so hard I had to quit the race.
What is your athlete referent?
I admire my SCOTT-Odlo team mate Nino Schurter. He is a great athlete I can learn a lot from.
After taking stock of the 2016 season, how do you assess? Tell us, what will be your objectives for 2017?
Assess? After 2016 the eyes will be on me and I hope I can fullfill the hopes in me with good results. The world cup is the main objective and my first world championship in the elite.
Give us your opinion about SRAM EAGLE, what positive and negative things have?
I have ony good things to say about SRAM EAGLE. It now offers a wide range of gears and makes shifting so simple. One chainring in the front makes it so much easier. Now with no compromisng in gears.
Would you spend a lot of time every day on the bike? Do you think it is the sport that requires greater sacrifice?
I love it. Riding my bike makes me feel free and alive. I don't have to sacrifice because I love what I'm doing. OK, sometimes a bit less, when it's cold and rainy…
To prepare the world championship of Nove Mesto you went to train to the south of Spain, concretely Sierra Nevada, why there? Is there no higher altitude in Sweden?
No, Sweden offers no altitude training. I actually went to Sierra Nevada before Olympics and once in January. It offers great training facilities.
In spite of your youth, you have already obtained the maximum that can be aspired in the mountain bike, what objectives are now hanging around Jenny? Will you change sport?
As I said there is still a lot to win in mountain bike I have not reached yet. I love my sport and I'm not thinking of changing.