Alejando Valverde wins the Ranxo Gravel and keeps adding victories in the Gravel World Series
The rider from Murcia counts by victories his participations in gravel competitions, among them, the two races of the Gravel World Series, the world cup of the specialty after adding a new triumph to his record by winning the Hutchinson Ranxo Gravel that took place today in the town of Pons in the province of Lleida.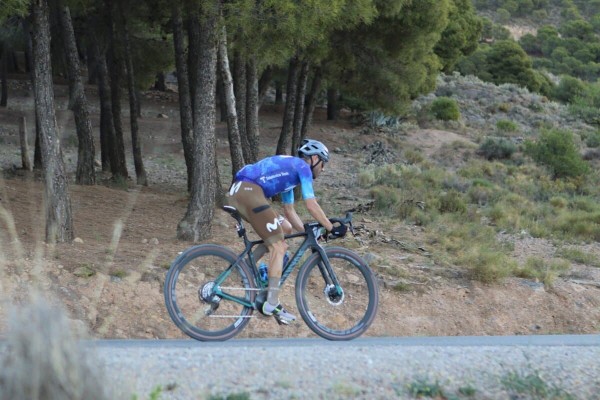 Great day for the Movistar Team Gravel Squad at the Ranxo
A great day for Movistar Team in the Hutchinson Ranxo Gravel, the eighth round of the Gravel World Series and second of those held in Spain after the start of the competition at the end of April in La Indomable in which Alejandro Valverde signed a resounding victory.
IMPARABLE. @alejanvalverde gana la Ranxo en Ponts (Lleida). Dos de dos para el Bala con #MovistarTeamGravelSquad. pic.twitter.com/YQ0d6sankA

— Movistar Team (@Movistar_Team) June 4, 2023
A victory that has been repeated today and that serves to revalidate for Movistar Team the one achieved last year by Carlos Verona.
The race was held on a broken route in the surroundings of the town of Pons in the pre-Pyrenees of Lleida. The participants of the long race, which was valid for the UCI Gravel World Series, had to cover 161 kilometers with a considerable 2,200 m of elevation gain.
Alejandro Valverde took 4 hours 50 minutes to complete the course, 2 minutes less than the second classified, his Movistar Team teammate Iván García Cortina. Completing the podium was another illustrious Spanish cyclist, the cyclo-cross specialist Kevin Suárez.
Hutchinson Ranxo Gravel Classification
Alejando Valverde 04:50:16
Iván García Cortina +02:16
Kevin Suarez +02:52
Ismael Esteban +02:57
Jente Michels +02:58
Sergio Mantecón +03:03
Tobias Perry +03:04
Ben Thomas +03:06
Andrea Mifsud +03:09
Aleksaandr Grigorev +03:10